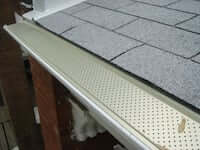 Gutters
Gutter installation, repair, and leaf protection
Protect your home with our seamless heavy gauge gutters and Leaf Relief gutter protection system.

Our experienced professionals can install your gutters and downspouts quickly and correctly, ensuring they'll last a lifetime. Our Leaf Relief system prevents clogs from leaves and debris, offering a lifetime guarantee of gutter protection.

Don't wait, contact us today to keep your gutters and downspouts in pristine condition.
Call us today