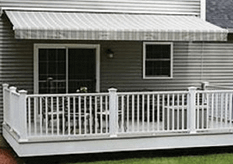 Shade Awnings
Remote Control or Manual
Shade awnings are a great way to reduce the sun's heat and power in your outdoor space.

We offer both manual and remote controlled awnings so you can get the shade you need quickly and easily.

Manual awnings are easy to deploy, while remote controlled awnings will allow you to stay in the comfort of your deck or patio while adjusting the shade to your perfect level.

Enjoy the outdoors without worrying about the sun's relentless rays with our shade awnings!
Call us today